EVENTS
Club Chinois ends the season on a high with closing party headlined by Honey Dijon
The iconic Ibiza nightspot bows out of summer 2023 in style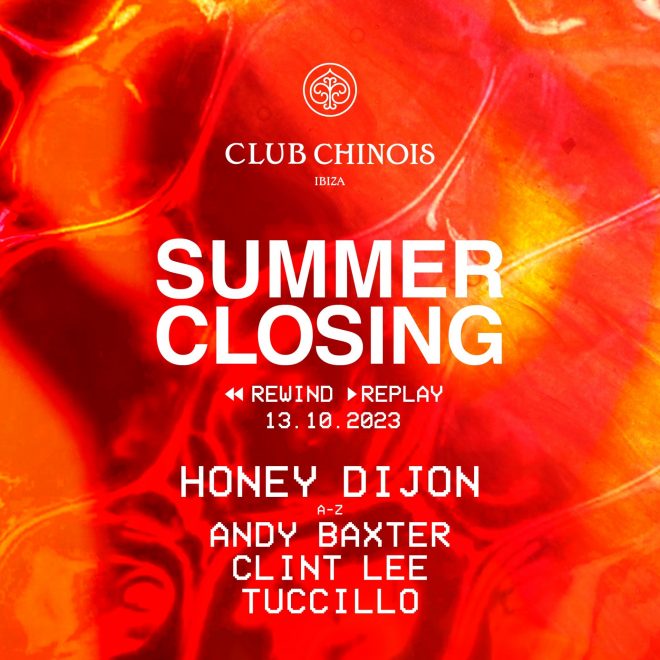 After a storming second season, iconic Ibiza nightspot Club Chinois is bringing the curtain down on summer 2023 with a fittingly star-studded closing party.
The grand finale is set to be headlined by Honey Dijon, who will be joined by Andy Baxter, Clint Lee and Tuccillo on Friday 13th October.
Bringing Club Chinois' second season to an end, Ida Engberg and Franky Wah also recently capped off their residencies; with NiiWA, the latest party project from underground Ritual Collective and powered by Club Chinois itself, concludes this week with Elisa Elisa, Marcus Worgull and Robag Wruhme.
Pablo Fierro's "We're Here", one of the most successful parties on the island, also wraps up this Friday 6th October with headliners Deer Jade, Manoo and Mont Rouge.
Renowned and Ibizean party La Troya also concludes its season on Monday 9th October, while The Ritual with Ananè and Louie Vega's closing is on Wednesday 11th October with Superstar dj and producer The Blessed Madonna.
Underground party TRIP and Club Chinois are about to push the limits of clubbing as for the first time in the history of Ibiza, a residency will exceed 30 weeks and the closing will take place between two dates: on Saturday 28 October, with the exceptional trio Apollonia; and on Saturday 4th November with powerhouse names Ricardo Villalobos and Sonja Moonear.
Following Club Chinois' incredible debut season after its launch last year, its second scorching summer has included Pablo Fierro's WERE HERE, which brought a stellar line-up of guests including Diplo, Kerri Chandler, Sebastien Leger, Axel Boman, Joe Claussel, Cincity, Jamiie and more, as well as Franky Wah's SHÈN residency, The Ritual With Anané & Louie Vega, Ida Engberg and La Troya.
It's set to be a climactic goodbye to the 2023 season for Club Chinois, the glamorously renovated nightclub designed to entice global music talent and hedonistic souls, where late nights come alive with escapism and adventure. Inspired by the decadent yet iniquitous jazz clubs of 1930's Shanghai, the club delivers old-world hospitality and world class contemporary entertainment to the sunny shores of Ibiza. Revellers can find an innovative cocktail list, five-star hospitality and superb service within the club's golden sculpted columns, opulent textiles and granite floors - with sensory surprises around every corner. Launched in 2022, the 1,000 capacity club in Ibiza Marina Botafoch is cementing itself as one of the island's most sought after party spots.
There are now only a few opportunities left to enjoy what has been the most significant new development in Ibiza in many years. It's a fond farewell to a spectacular season at Club Chinois. Until next year…
Load the next article