NEWS
​EXHALE UNVEILS ITS SUMMER DC10 LINE-UP
AMELIE IS BACK FOR A SECOND SEASON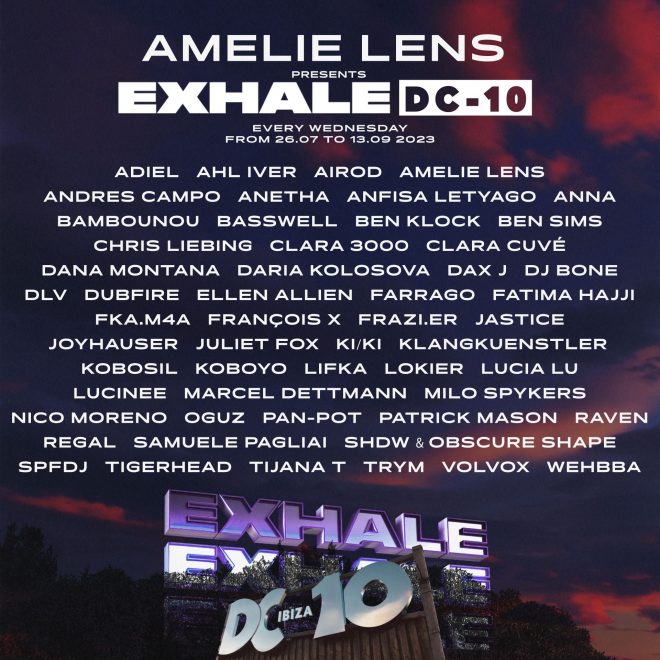 EXHALE UNVEILS ITS SUMMER DC10 LINE-UP AMELIE IS BACK FOR A SECOND SEASON
After a successful first year in Ibiza, the EXHALE community return for an 8-week residency at DC-10.
Alongside the weekly club shows, starting July 26 and taking place every Wednesday till September 13, Amelie Lens revealed the full line up that will champion the future sounds of techno on the island.
"Last year we watched as our community grew, and we got to know the people that came each week to support the event. I am so excited to see these familiar faces again and to make new memories" says Amelie Lens.
EXHALE returns to Ibiza off the back of one of their most successful years to date having just returned from a first sold out US weekend, a 7,000+ mega rave in their home town of Antwerp as well as a huge VA currently dominating the Beatport charts.
Looking to grow on the success of last year and cement their position as the go to spot for island techno, Amelie Lens has invited 50+ artists including Marcel Dettmann, Bambounou, DJ Bone, Dana Montana, SPFDJ and of course Amelie Lens and Farrago. The residency has doubled in size to cater for the islands growing demand for techno and EXHALE will be revealing a host of events and activations to accompany the residency over the coming weeks.
"One of my favourite things about EXHALE Ibiza, is how connected we feel to the island and the people that live there. It's really special to see and enjoy the events together every Wednesday" adds Farrago
EXHALE has always been powered by techno, driven by community and Ibiza will be no different. The brand and its loyal legion of techno lovers want to change the perception of the island, dropping any exclusivity that may have been synonymous with Ibiza over the last decade. EXHALE x DC-10 is the creation of a space where everyone is included, no boundaries, no attitudes. Each and every raver, DJ and industry worker, united under the techno banner.
"EXHALE has gone all around the world this year; Ibiza feels like our summer reunion where our community comes from near and far" – Amelie Lens
Come and take your place in the EXHALE community this summer.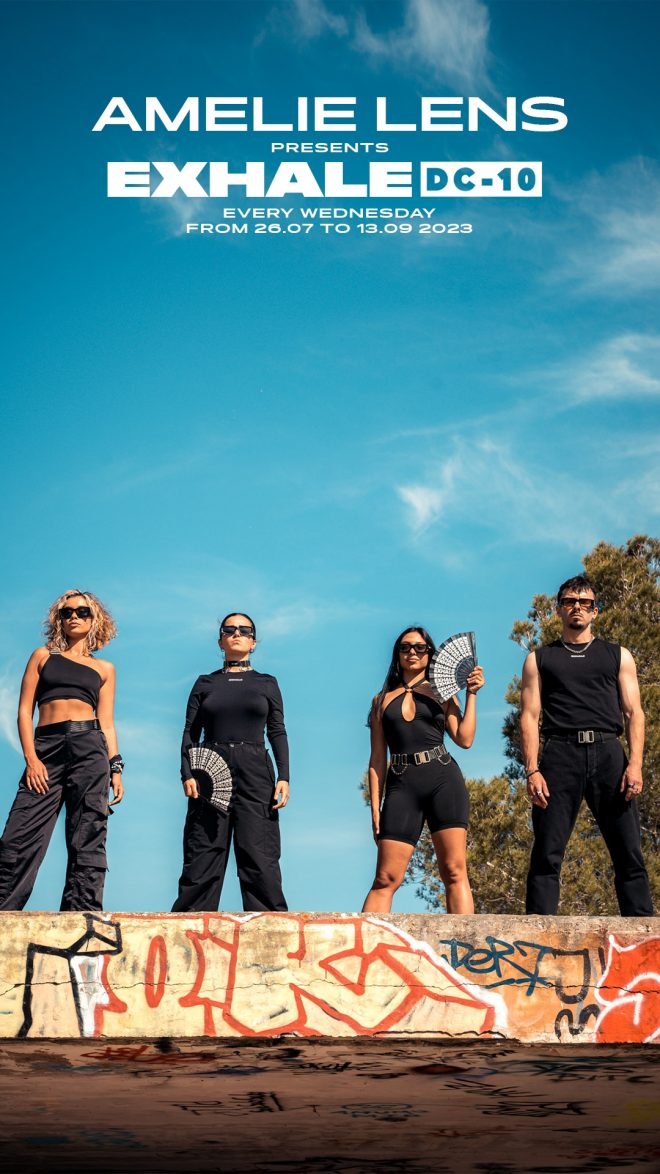 A-Z LINE-UP
ADIEL
AHI IVER
AIROD
AMELIE LENS
ANDRES CAMPO
ANETHA
ANFISA LETYAGO
ANNA
BAMBOUNOU
BASSWEL
BEN KLOCK
BEN SIMS
CHRIS LIEBING
CLARA CUVÉ
CLARA 3000
DANA MONTANA
DARIA KOLOSOVA
DAX J
DJ BONE DLV
DUBFIRE
ELLEN ALLIEN
FARRAGO
FATIMA HAJJI
FKA.M4A
FRANÇOIS X
FRAZI.ER
JASTICE
JOYHAUSER
JULIET FOX
KI/KI
KLANGKUENSTLER
KOBOSIL
KOBOYO
LIFKA
LOKIER
LUCIA LU
LUCINEE
MARCEL DETTMANN
MILO SPYKERS
NICO MORENO
OGUZ
PAN-POT
PATRICK MASON
RAVEN
REGAL
SAMUELE PAGLIAI
SHDW & OBSCURESHAPE
SPFDJ
TIGERHEAD
TIJANA T
TRYM
VOLVOX
WEHBBA
Load the next article