EVENTS
Heaven After Dark Arrives in the UK for their Highly Anticipated Debut Event at Studio 338
Immersive new electronic music event founded by Jane's Addiction and Lollapalooza founder Perry Farrell & his wife Etty Lau Farrell comes to London.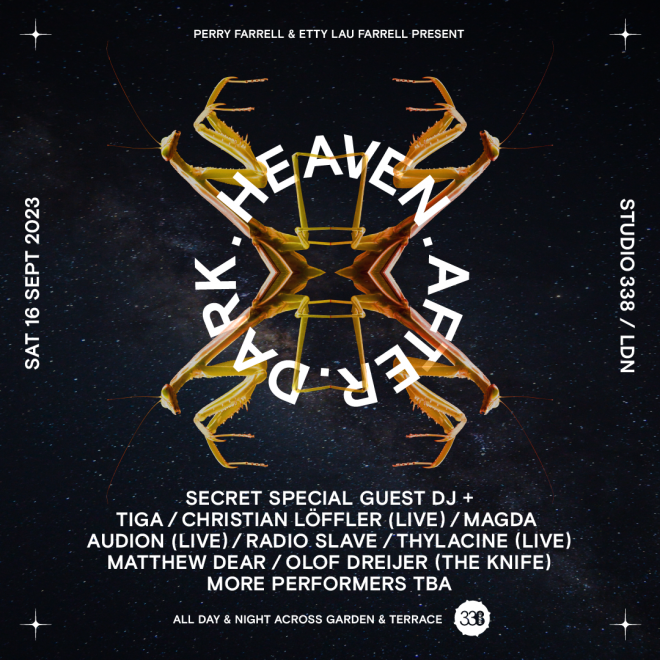 Musical maverick Perry Farrell is the creator of one of the most successful and legendary global festivals 'Lollapalooza'. Perry and performer and singer wife, Etty Lau Farrell are bringing their unique Heaven After Dark club event to the UK for the first time on September 16th at London's Studio 338. Perry and Etty will be performing with select artists alongside a carefully curated mix of iconic underground legends and breakthrough innovative artists from the electronic dance world. It will be a party that delivers a next gen experience where art and music are twisted into all new realities for a truly memorable event not to be missed.
Heaven After Dark brings together cultural enthusiasts and purveyors of the best in electronic dance music to deliver a club event like no other. Following three sold out events in LA with headliners like Maceo Plex and Christian Loffler, the party now arrives in the UK. There is a marked difference in the way the events merge the worlds of live performance and cutting-edge DJ sets, and feature authentic artists who were schooled deep in the underground scene to offer a hybrid, truly immersive, and rather special one-off clubbing experience.
'You choose your own chaos in Heaven After Dark'
Perry Farrell & Etty Lau Farrell
The first event will be an awe-inspiring all day & night party that not only promotes true artistry but also celebrates diversity and collaboration through a mix of iconic and emerging artists twisting art and music into all new realities. The lineup includes Tiga, Christian Loffler (Live), Magda, Audion (Live), Radio Slave, Thylacine (Live), Matthew Dear and Olof Dreijer of The Knife. There will also be a special guest DJ playing a headline slot, which is currently kept under wraps.

Perry Farrell, labelled the 'Godfather of Alternative Rock' and frontman of the iconic band Jane's Addiction has always been at the cutting-edge of art and music, and recently founded an electronic music label under the 'Heaven After Dark' banner . Etty Lau Farrell has forged her own legacy, from being part of the original 'Pussycat Dolls' lineup to dancing and performing with the likes of Madonna, Ricky Martin, Bon Jovi and Jane's Addiction. Never one to sit still for long, Etty is currently working on her debut anticipated solo EP release and co-produces the highly anticipated events for Heaven After Dark where production, performance and aesthetic are front & centre.
Perry Farrell has a deep history of hosting underground parties dating back to his earliest days in the scene and Heaven After Dark taps into that primal energy. Studio 338 is a perfect venue for this London debut with its growing stature (#21 DJ Mag Top 100 clubs) and its range of best-in-class indoor and outdoor club spaces.
Working to bring the project to life are managers Ian Jenkinson and Michael James. Like Perry, Ian has deep seated roots in this space having established the award-winning dance music promoter Universe, where he co-created the legendary Tribal Gathering festival and Final Frontier nights.
Load the next article