NEWS
Pyramid
Announces weekly lineups schedule with Caribou, Bonobo (DJ Set), Ricardo Villabolos, Nina Kraviz, Raresh, Richie Hawin and more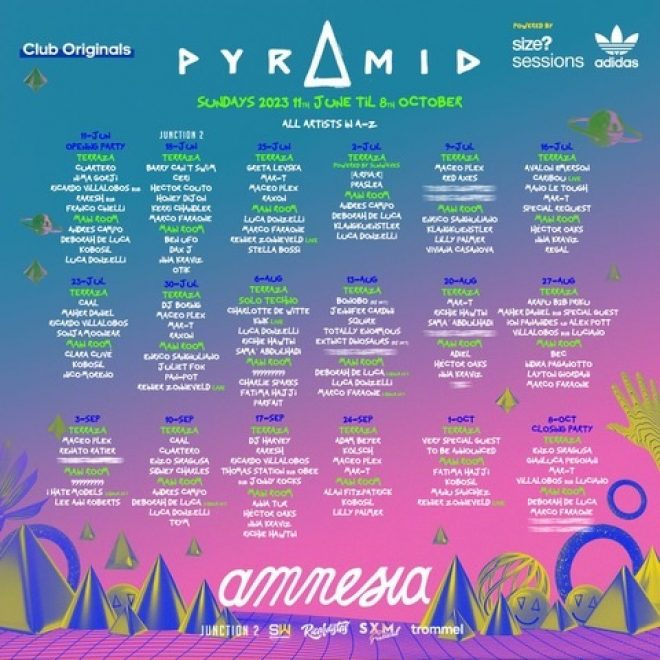 Pyramid announces weekly lineups schedule with Caribou, Bonobo (DJ Set), Ricardo Villabolos, Nina Kraviz, Raresh, Richie Hawin and more
Amnesia's famously forward thinking and immersive Pyramid party has completed its weekly line-ups for a truly diverse and spectacular 2023 season. Taking the party to new heights from June 11th to October 8th is the most cultured mix yet of international stars, renowned live acts and plenty of irresistible pioneers who between them will cover the most exciting sounds from the house, techno, minimal and electro vanguard. Prepare to get lost on the world's most famous dance floor amongst immersive production on a scale you haven't seen before. Get your tickets now at https://www.amnesia.es/en/promotor/pyramid
The most epic opening party gets things under way in style on June 11th with a special three-way back to back between Ricard Villalobos, Raresh and Franco Cinelli on the Terraza next to Nima Gorji and Cuartero while the Main Room welcomes Andres Campo, Deborah De Luca, Kobosil and Luca Donzelli for an intense night of fresh techno.
After that the highlights come non-stop each week of the summer months with June 18th welcoming Chicago mainstay Honey Dijon, house hero Kerri Chandler in collaboration with Junction 2. They will perform alongside UK innovator Ben UFO, techno talents Dax J and Nina Kraviz. Season regular Marco Farone, Ellum Audio boss Maceo Plex, Stella Bossi and a live set from acid techno star Reinier Zonneveld in that month also.
July is when cult Romanian minimal festival Sunwaves takes over for a week with guests [A:RPIA:R] and Praslea, and the rest of the month finds the likes of Deborah de Luca, Klangkuenster, Red Axes, a live show from Caribou plus sets from Avalon Emerson, Mano Le Tough, Mar-T, Special Request, Héctor Oaks, Nina Kraviz, Ricardo Villalobos, Sonja Moonear, Kobosil, DJ Boring, Maceo PLex, Pan-Pot, Klangkuenster and many more.
Into August and plenty more big names arrive at Amnesia including a Solo Techno takeover with Charlotte De Witte, KiNK live, Richie Hawtin and Sama' Abdulhadi, and then come 999999999, Charlie Sparks and others, a DJ set from the one and only Bonobo plus more from Jennifer Cardini, a DJ set from Totally Extinct Enormous Dinosaurs, three hour sets from Deborah De Luca and Marco Farone, returns for Richie Hawtin, Nina Kraviz and Sama' Abdulhad, a set from and a back to back between Ricardo Viallobos and Luciano with Arapu b2b Priku, Indira Paganotto and more.
September highlights include Maceo Plex, Renato Rather, 999999999 and a three hour set from I Hate Models, Enzo Siragusa, Sidney Charles, DJ Harvey, Raresh, Ricardo Viallobos, Richie Hawtin, Nina Kraviz, Héctor Oaks, Thomas Stantion b2b Obee b2b Jonny Rocks, Adam Beyer, Kolsch, Maceo Plex, Alan Fitzpatrick, Kobosil and more
October features a very special guest to be announced and Kobosil, Fatima Haji, Manu Sanchez and Reinier Zonneveld live, then the season comes to a close in style on October 8th with Enzo Siragusa, Gianluca Pegoiani, Mar-T, a back to back between Ricardo Viallobos and Luciano, Deborah De Luca and Marco Farone, plusmore to be announced.
World class artists come thick and fast all season long at Pyramid, make sure you are part of the story by getting your tickets now at https://www.amnesia.es/en/promotor/pyramid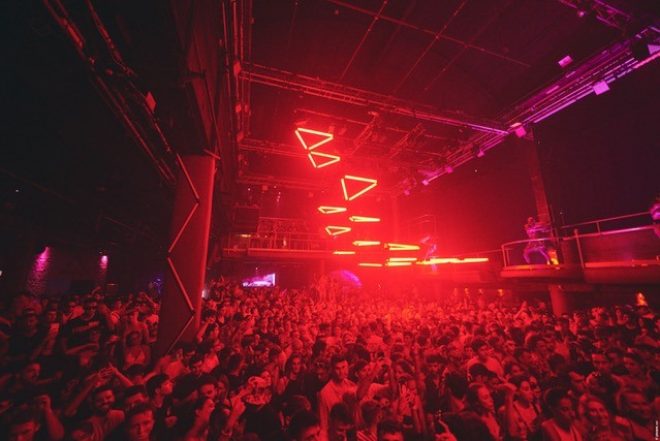 11-JUN
OPENING PARTY
TERRAZA
CUARTERO
NIMA GORJI
RICARDO VILLALOBOS b2b RARESH b2b
FRANCO CINELLI
MAIN ROOM
ANDRES CAMPO
DEBORAH DE LUCA
KOBOSIL
LUCA DONZELLI
18-JUN - IN COLLABORATION WITH JUNCTION 2
TERRAZA
BARRY CAN'T SWIM
CERI
HECTOR COUTO
HONEY DIJON
KERRI CHANDLER
MARCO FARAONE
MAIN ROOM
BEN UFO
DAX J
NINA KRAVIZ
OTIK
25-JUN
TERRAZA
GRETA LEVSKA
MAR-T
MACEO PLEX
RAXON
MAIN ROOM
LUCA DONZELLI
MARCO FARAONE
REINIER ZONNEVELD LIVE
STELLA BOSSI
2-JUL
TERRAZA
POWERED BY SUNWAVES
[A:RPIA:R]
PRASLEA
MAIN ROOM
ANDRES CAMPO
DEBORAH DE LUCA
KLANGKUENSTLER
LUCA DONZELLI
9-JUL
TERRAZA
MACEO PLEX
RED AXES
TBA
MAIN ROOM
ENRICO SANGIULIANO
KLANGKUENSTLER
LILLY PALMER
VIVIANA CASANOVA
16-JUL
TERRAZA
AVALON EMERSON
CARIBOU LIVE
MANO LE TOUGH
MAR-T
SPECIAL REQUEST
MAIN ROOM
HÉCTOR OAKS
NINA KRAVIZ
REGAL
23-JUL
TERRAZA
CAAL
MAHER DANIEL
RICARDO VILLALOBOS
SONJA MOONEAR
MAIN ROOM
CLARA CUVÉ
KOBOSIL
NICO MORENO
30-JUL
TERRAZA
DJ BORING
MACEO PLEX
MAR-T
RAXON
MAIN ROOM
ENRICO SANGIULIANO
JULIET FOX
PAN-POT
REINIER ZONNEVELD LIVE
6-AUG
TERRAZA
SOLO TECHNO
CHARLOTTE DE WITTE
KINK LIVE
LUCA DONZELLI
RICHIE HAWTIN
SAMA'ABDULHADI
MAIN ROOM
999999999
CHARLIE SPARKS
FATIMA HAJJI
PARFAIT
13-AUG
TERRAZA
BONOBO (DJ SET)
JENNIFER CARDINI
SQUIRE
TOTALLY ENORMOUS EXTINCT DINOSAURS (DJ SET)
MAIN ROOM
DEBORAH DE LUCA (3-HOUR SET)
LUCA DONZELLI
MARCO FARAONE (3-HOUR SET)
20-AUG
TERRAZA
MAR-T
RICHIE HAWTIN
SAMA´ ABDULHADI
TBA
MAIN ROOM
ADIEL
HÉCTOR OAKS
NINA KRAVIZ
TBA
27-AUG
TERRAZA
ARAPU B2B PRIKU
MAHER DANIEl b2b SPECIAL GUEST
ION PANANIDES AND ALEX POTT
VILLALOBOS b2b LUCIANO
MAIN ROOM
BEC
INDIRA PAGANOTTO
LAYTON GIORDANI
MARCO FARAONE
3-SEP
TERRAZA
MACEO PLEX
RENATO RATIER
TBA
MAIN ROOM
999999999
I HATE MODELS 3-HOUR SET
LEE ANN ROBERTS
10-SEP
TERRAZA
CAAL
CUARTERO
ENZO SIRAGUSA
SIDNEY CHARLES
MAIN ROOM
ANDRES CAMPO
DEBORAH DE LUCA 3-HOUR SET
LUCA DONZELLI
TRYM
17-SEP
TERRAZA
DJ HARVEY
RARESH
RICARDO VILLALOBOS
THOMAS STATION B2B OBEE
B2B JONNY ROCKS
MAIN ROOM
ANNA TUR
HÉCTOR OAKS
NINA KRAVIZ
RICHIE HAWTIN
24-SEP
TERRAZA
ADAM BEYER
KÖLSCH
MACEO PLEX
MAR-T
MAIN ROOM
ALAN FITZPATRICK
KOBOSIL
LILLY PALMER
1-OCT
TERRAZA
VERY SPECIAL GUEST TBA
MAIN ROOM
FATIMA HAJJI
KOBOSIL
MANU SANCHEZ
REINIER ZONNEVELD LIVE
8-OCT
TERRAZA
ENZO SIRAGUSA
GIANLUCA PEGOIANI
MAR-T
VILLALOBOS b2b LUCIANO
MAIN ROOM
DEBORAH DE LUCA
MARCO FARAONE
TBA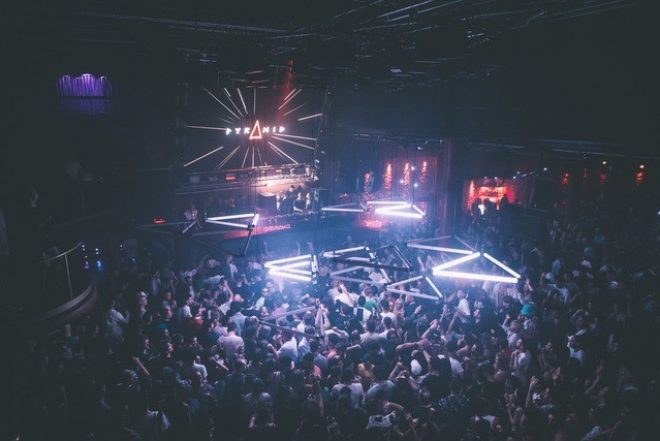 About Pyramid
Amnesia's in-house night Pyramid has become one of Ibiza's most respected house and techno parties. It features vast line-ups that bring not just one headliner but many different top-level talents to the world famous club. The party has also hosted its own float at the Zurich Street Parade, is well known for its legendary opening and closing events and regular sets from international DJ stars like Four Tet, Ricardo Villalobos, Denis Sulta b2b Skream, Deborah De Luca, Marco Faraone, Raresh b2b Praslea, Adam Beyer, Sven Väth, Marcel Dettmann b2b DJ Stingray 313, Maceo Plex, Sonja Moonear, Luciano, Ben Klock, Avalon Emerson, Floating Points, Bicep Live, Nina Kraviz, Len Faki and tens more. Because of this, Pyramid has recaptured the essence of early Ibiza parties with its focus on standout headliners, all night long dances and cutting edge technology all heightening the unique experience.

Amnesia Socials
https://www.amnesia.es/
https://www.facebook.com/amnesiaibiza
https://www.instagram.com/amnesiaibiza/

Pyramid Socials
https://www.wearepyramid.com
https://www.facebook.com/pyramidibiza
https://www.instagram.com/pyramidibiza/
Load the next article