NEWS
R Label Group and HYTE Berlin
Celebrate their tenth anniversary with an exclusive four hour B2B set with iconic techno titans Kobosil and Klangkuenstler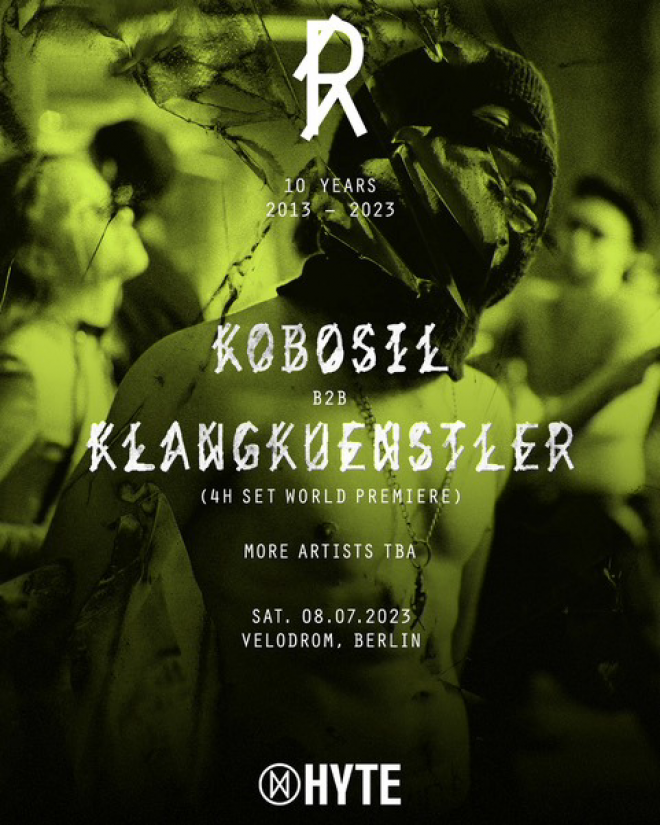 R Label Group and HYTE Berlin celebrate their tenth anniversary with an exclusive four hour B2B set with iconic techno titans Kobosil and Klangkuenstler
With tickets selling fast, for their tenth anniversary, the two successful techno brands join forces at Berlin's renowned Velodrom.
R Label Group and HYTE Berlin have joined forces to celebrate their tenth anniversary with an exclusive four hour back to back set with revered techno artists Kobosil and Klangkuenstler on Saturday 8th July at renowned Berlin venue Velodrom.
Founded in 2013, R Label Group is considered a pioneer of the modern rave scene and draws on a philosophy that combines a unique sound with unabated artistic freedom. In the past, the label has repeatedly demonstrated its sense for new talent and musical innovation through collaborations with artists from diverse genres, such as German hip-hop artist UFO361 and singer-songwriter Rosa Anschütz. In addition to releasing music, R Label Group is actively involved in organising events and parties across Europe, cementing its reputation as a driving force in the techno community.
The global event institution HYTE is a highly esteemed constant in the electronic underground cosmos. The brand is known for its extraordinary event productions around the globe always seeking new standards thanks to massive line-ups along with the biggest international DJ headliners. HYTE's programme includes flagship events such as the weekly HYTE Ibiza nights at the legendary Amnesia, the HYTE New York Outdoor Festival on Governors Island, HYTE Amsterdam at the unique Warehouse Elementenstraat, the stunning HYTE Miami during Miami Music Week and HYTE Berlin at NYE at Shedhalle Funkhaus. The brand stands for a strong connection to its loyal audience and like-minded partygoers from all over the world.
Born and raised in Berlin-Neukölln, Max Kobosil has become one of Germany's most successful techno acts within the blink of an eye. He stands for dark and ecstatic productions between EBM, Noise and Industrial, vehemently captivating the listeners attention. Simultaneously, he has launched the 44 Label Group, a trendsetting fashion brand with appearances at Milan Fashion Week in its vita.
Michael Korb also known as Klangkuenstler is blessed with an inimitable sense for driving grooves and nostalgia, ensures sweaty nights and pure emotions on the dance floor with his high-BPM sound reminiscent of the early 2000s.
Set to be a sell out event, the highly anticipated collaboration between Kobosil and Klangkuenstler for the tenth anniversary of R Label Group and HYTE is an affair not to be missed.
Load the next article