NEWS
STATE OF TRANCE
TAKES THE UK BY STORM WITH FIRST-EVER FESTIVAL IN THE HEART OF LONDON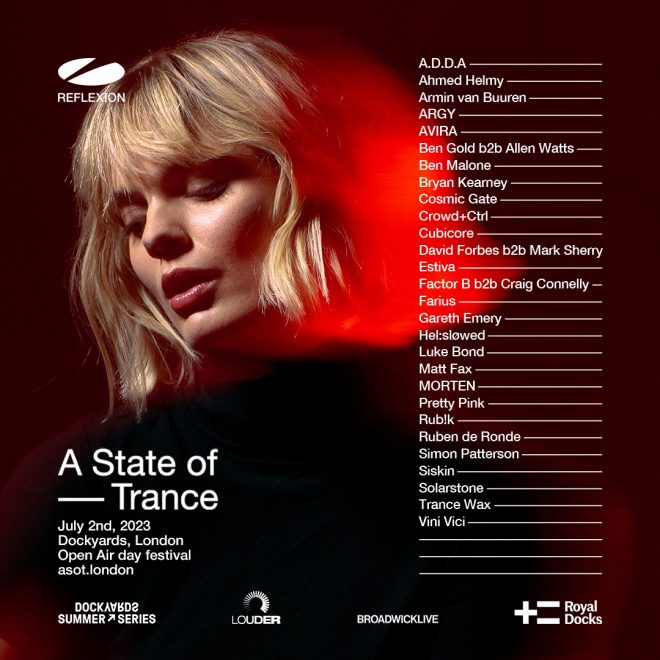 A STATE OF TRANCE TAKES THE UK BY STORM WITH FIRST-EVER FESTIVAL IN THE HEART OF LONDON
Taking place at - Dockyards London, Royal Docks a groundbreaking new open-air cultural destination for London. The historic Royal Docks is reborn as a dynamic new centre for creativity, music and culture.
Touching down on London's iconic Dockyards venue for the very first time on July 2nd to celebrate A State of Trance's 20th anniversary. The landmark event will be the biggest trance festival in the UK to date and see performances by Armin van Buuren, ARGY, Ben Gold, Cosmic Gate, Gareth Emery, MORTEN, Pretty Pink, Solarstone and Vini Vici to name a few.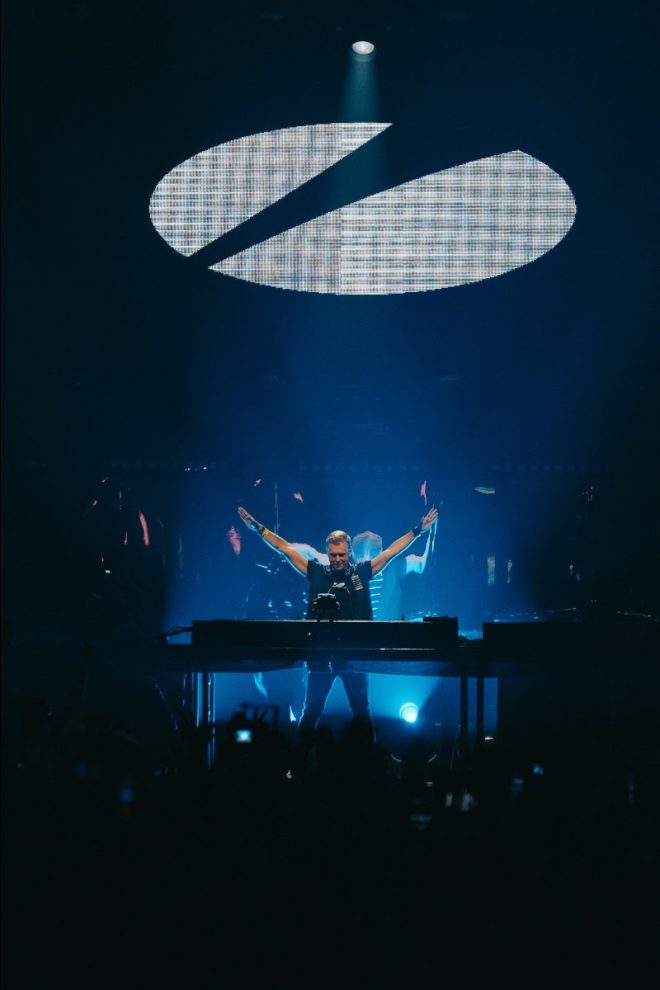 London, 22 May 2023 - A State of Trance, Armin van Buuren's highly respected brand, is officially heading to the United Kingdom for London's biggest trance festival to date. A State of Trance will take place at the iconic Dockyards in the capital, London. Close to thirty trance heavyweights are slated to perform across 3 outdoor stages, most notably the festival will see performances by head honcho Armin van Buuren as well as Cosmic Gate, Gareth Emery and Vini Vici. With just six weeks to go, anticipation is growing ever bigger among artists and fans alike, as is reflected in the scarce amount of available tickets left.
Armin van Buuren has set out on a celebratory string of events across the globe honouring his mighty A State of Trance brand's 20th anniversary. Having kicked off in Van Buuren's native Holland in early March, where 55.000 visitors converged, the show continues with an enormous event in London. A State of Trance will be the largest trance event to take place in London's history with an expected audience of 20.000 fans.
A State of Trance London will play host to a selection of trance music's hottest acts as well as the odd stray into different genres. For Gareth Emery, inarguably one of the UK's biggest trance exports, the show will be a home game. Emery just recently featured on Armin van Buuren's album Feel Again with the track Forever & Always. Cosmic Gate, who were also featured on Feel Again and collaborated with Van Buuren on the A State of Trance 2023 anthem REFLEXION are set to perform as well. On a slightly different tip, MORTEN will make his first appearance at A State of Trance. The Danish DJ and producer shot to stardom through his extensive collaborations with David Guetta and his refreshing take on dance music. Last but not least, the man of the hour, Armin van Buuren will be leaving his mark on the city of London with a spectacular performance to celebrate his iconic brand's 20th anniversary.
Additionally noteworthy mentions on the line-up include Vini Vici, who's release Great Spirit cemented their position as one of trance music's most promising acts. In a similar fashion, ARGY's recent Afterlife hit Pantheon also makes use of tribal vocals. Veteran cross-over DJ ARGY, has been around for over two decades, earning his stripes from Berghain's Panorama Bar to Ibiza residencies at DC-10 and Amnesia. On the other end of the spectrum, Pretty Pink will be showcasing her signature deep house and nu-disco. The German DJ rose through the ranks to become one of the leading voices in her niche and one of Europe's brightest acts.
Event information
A State of Trance
Dockyards, London
Sunday 2 July 2023
12:00 - 22:30
Line up A-Z
A.D.D.A | Ahmed Helmy | Allen Watts | Armin van Buuren | ARGY | AVIRA | Ben Gold | Ben Malone | Bryan Kearney | Cosmic Gate | Craig Connelly | Crowd+Ctrl | Cubicore | David Forbes | Estiva | Factor B | Farius | Gareth Emery | Hel:sløwed | Luke Bond | Matt Fax | MORTEN | Pretty Pink | Rub!k | Ruben de Ronde | Simon Patterson | Siskin | Solarstone | Trance Wax | Vini Vici
Ticket information
Tickets for A State of Trance are available through https://asot.london/ with prices starting at £55.00.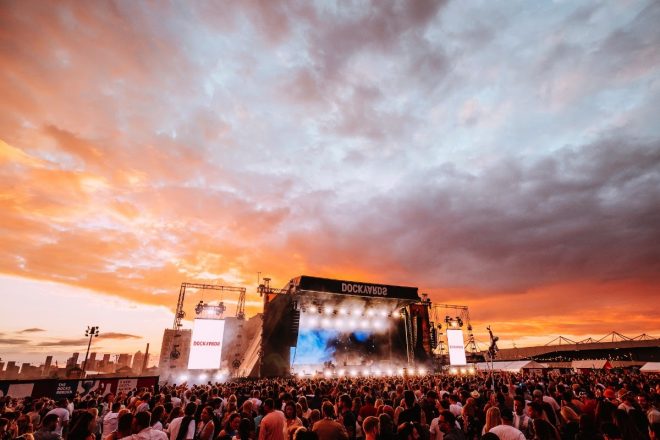 About Louder
Louder is the largest independent electronic music promotion company in the U.K. Our experienced and influential team specialise in areas such as event booking, marketing and social media, logistics & event management as well as the substantial growth of electronic music genres. Our main drive has always been to work with the biggest global acts at the best UK venues, while simultaneously cultivating and developing new talent. We pride ourselves in building up the festival headliners of tomorrow.
About A State of Trance
A State of Trance is a weekly radio show, record label and event concept by world renowned DJ Armin van Buuren. Van Buuren has been showcasing the latest in trance and progressive music in the radio show since its inception in 2001. A State of Trance is currently broadcasted in over 70 countries and has a weekly reach of over 39 million listeners. Every year, a world tour is organised by ALDA with special celebratory events. Over the years, these shows have been attended by more than 1 million visitors, with events held in over 30 countries. In 2023, A State of Trance is celebrating its 20th anniversary with a flagship event in Utrecht, Miami and London as well as a dedicated A State of Trance exhibition in Our House museum in Amsterdam.
About Dockyards
Located in East London's historic Royal Docks and set within Silvertown Quays, Dockyards is easily accessible from all corners of the capital, served by the DLR and the Elizabeth Line to Custom House station. The Emirates Air Line connects Royal Victoria to Greenwich Peninsular via London's only cable car. London City Airport flies from destinations all over Europe.

About Broadwick Live
At the heart of Broadwick Live is a founding belief in the power of 'live' with the objective always being to inspire, connect and create massive impact through music, culture and space. With four core divisions; Entertainment, Venues, Development and Partnerships, Broadwick Live Group, designs, builds and operates some of the world's most exciting venue and entertainment brands.
About Royal Docks
A magnet for creative production, the Royal Docks is fast becoming home to some of the capital's finest artists and cultural organisations. With world-class events, festivals and exhibitions creating an irresistible creative scene for visitors and locals, the Royal Docks' diverse and thought-provoking programme of activities is underpinning the area's resurgence as London's cultural engine.
Load the next article