MUSIC
Warm-Up Playlist: MOGA Essaouira 2023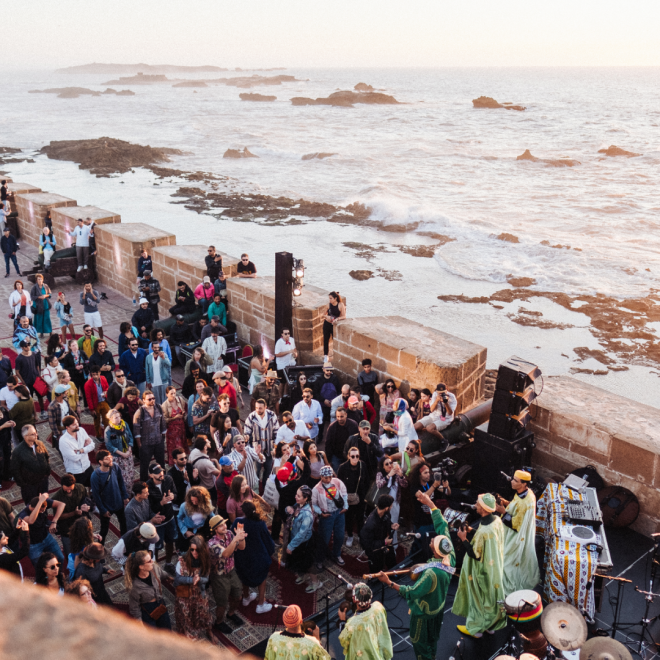 Moga is one of the most stunning festivals to visit anywhere in the world. It goes down in Morocco, famously on the set of Game of Thrones, in a dusty place with oodles of natural beauty, charm and a wealth of local culture.
The festival takes place October 4-8th at the Sofitel Hotel, a 10-minute drive from the Medina and a fantastic seaside town located on the Morrocan west coast with sounds from A Guy Called Gerald, Gene On Earth, Guedra Guedra, Jayda G, Fumiya Tanaka, Malika, Margaret Dygas, Maayan Nidam, Peach, Maurice Fulton, Quest, Portable, Rhadoo, Oceanvs Orientalis, Prins Thomas and more.
Here are some tracks from line-up artists to get you in the mood.
Jayda G - 'Your Thoughts'

The protagonist is reminiscing about a past relationship through the memories of her partner, who has passed away ("diving into your diary"). She realizes that their thoughts and experiences coincided with each other and how certain things repeat themselves over time. Despite the chapter closing on their relationship, the partner's soul continues to live on through her.
Fumiya Tanaka - Fur Elodie
A very classic and atmospheric tune to hypnotize people into Fumiyas deeper side.
Space Talk (Maurice Fulton Remix)

The iconic 'Space Talk', which already has one of most venerated sample repertoires of all time (see: The Notorious B.I.G., Diddy, and 50 Cent), gets the remix treatment by US producer Maurice Fulton into a super steamy, late-night mover. Think finger-picked bass grooves and cruising chords, paired with Puthli's sultry top line.

Gene On Earth - Turbo Island [LD004]
A full of fresh, wiggly house bomb.
Prins Thomas - Feel The Love
The track is based around a sample of the track "Feel A Love" by one of the biggest pop-stars in Norway in the 70s and 80s, the late Alex (Naumik). The 12" contains a Prins Thomas Diskomix, album version and two remixes from Lauer.

Oceanvs Orientalis - Spage Age (Atomic Alchemy EP - 2023)
A Guy Called Gerald - Rhythm Of Life
A beautiful part of the backend of a decade full of a new generation of dance music. Pure gold!
Load the next article