NEWS
Jamie Jones and Paradise
Unveil The Night of The Jaguar and Lineup For 2023 Season at Amnesia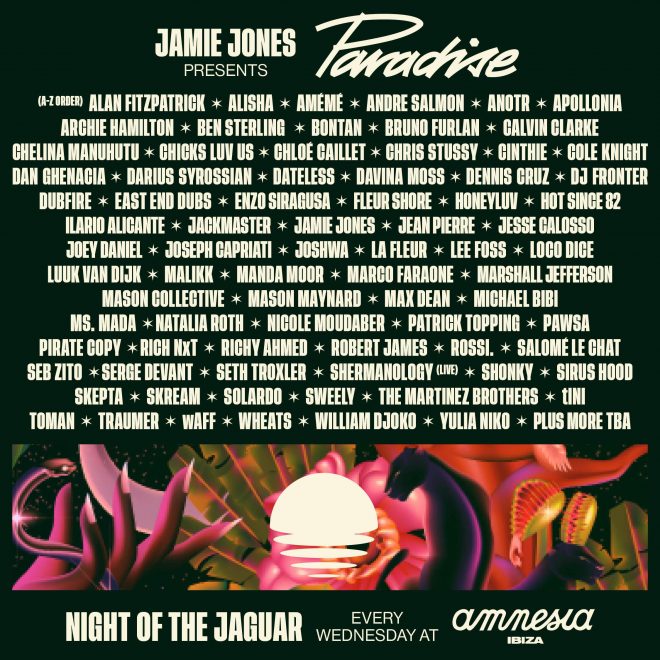 Jamie Jones and Paradise Unveil The Night of The Jaguar and Lineup For 2023 Season at Amnesia
Opening: Wednesday 21st June
Closing: Wednesday 4th October
This summer, Ibiza's most celebrated residency is going primal. Expect the unexpected and prepare to be awe-struck as Jamie Jones welcomes you into Night of The Jaguar, where the jungle comes alive with its world of vibrant acid-hued wildlife and supernatural night visions at the world-renowned Amnesia for his iconic Paradise Ibiza season.
Hosted for the 12th year running by Jamie Jones every Wednesday from 21st June to 4th October, Paradise invites you deep into the heart of the tropical wilds, to the place where we meet the jaguar's 'spirit of the midnight sun'. In ancient prophecies the jaguar is seen as a guide for those who journey into the night surrounded by the primal energy of the jungle.
With standout guests including Alan Fitzpatrick, Alisha, AMÉMÉ, Andre Salmon, ANOTR, Apollonia, Archie Hamilton, Chloé CAILLET, CHELINA MANUHUTU, Chris Stussy, Darius Syrossian, Dateless, Dubfire, East End Dubs, Enzo Siragusa, Fleur Shore, Honeyluv, Hot Since 82, Ilario Alicante, Jamie Jones, Joseph Capriati, Joshwa, La Fleur, Lee Foss, Loco Dice, Luuk Van Dijk, Manda Moore, Marco Faraone, Mason Collective, Mason Maynard, Max Dean, Michael Bibi, Ms. Mada, Natalia Roth, Nicole Moudaber, Patrick Topping, Pawsa, Richy Ahmed, Robert James, Seb Zito, Seth Troxler, Shermanology (live), Skepta, Skream, Solardo, Sweely, The Martinez Brothers, tINI, Toman, Traumer, wAFF, William Djoko, Yulia Niko and many more artists to be announced including new residents for 2023, plenty of hotly-anticipated debuts and B2B's plus majestic closing terrace sets from the island's favourite selector Jamie Jones. Night of The Jaguar is sure to be the most magical residency on the island.
Welcoming Jamie Jones' residency for the second year running, Amnesia is the home of music lovers, and the meeting point for clubbers from all over the world. The birthplace of the Balearic beat, this is a true haven for hedonism, where morning sunlight streams in to cap off immersive all-nighters.
Unleash your spiritual energy and head off into an unknown world of musical adventure with Jamie Jones this summer. Your ticket to Paradise awaits. Welcome to The Night of The Jaguar.
To find out more about Paradise, go to:
To find out more about Jamie Jones, go to:
Load the next article