NEWS
Revolutionary new app DJ.Studio is redefining the way DJs mix
CUTTING-EDGE TECHNOLOGY AND YOUTUBE INTEGRATION DEMOCRATISE DJ MIXING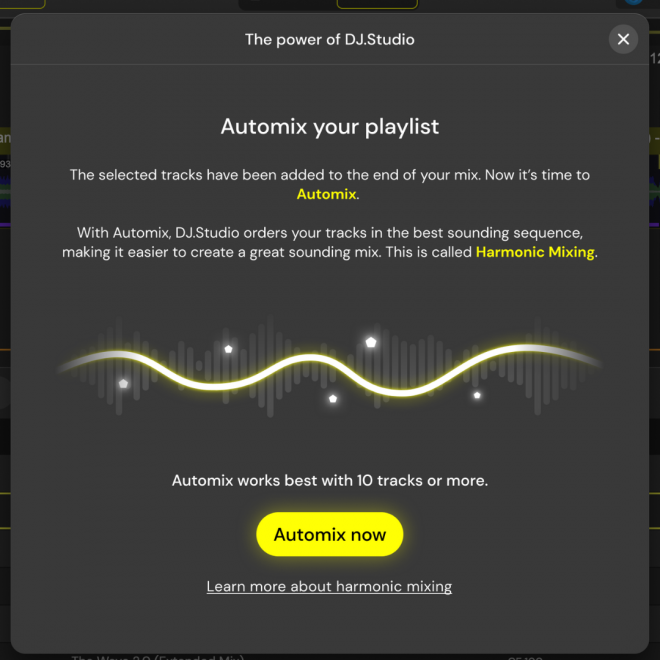 DJ.Studio is changing the game. With its pioneering concept and cutting-edge technology, the platform is set to redefine the way DJs record mixes. Undoubtedly one of the most innovative platforms on the market, DJ.Studio has the potential to become a world leader in electronic music software.

The brainchild of founder Siebrand Dijkstra, who wanted to find the solution to creating perfect DJ mixes in minimal time - and so DJ.Studio was born. A revolutionary platform that will be just as useful to aspiring DJs as seasoned industry professionals, DJ.Studio uses advanced AI based harmonic intelligence to create flawless mixes in just a fraction of the time, every time. Unlike anything that has been seen before, the ground-breaking app allows users to sync their existing library, and seamlessly craft their existing playlist of tracks into a perfect mix all at the touch of a button. Once mixed, users have the option to create a local music file, share it on Mixcloud or YouTube or export to Ableton for additional editing and mastering

Taking away the time-consuming trial and error track matching process, DJ.Studio is able to give its users more time to get down to the nitty gritty of mixing - to craft their own transitions and effects in this digital audio workstation designed specifically for DJs.
"I have been passionate about electronic music for more than 25 years and I have been creating DJ mixes for the last 15 years. In that period I used an old legacy application, which unfortunately was only running in Windows and it got deprecated 10 years ago, so it was time for me to build it myself with my team." - Siebrand Dijkstra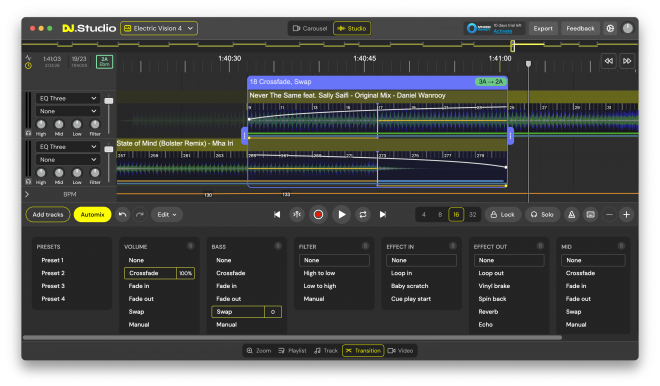 Driven by his passion for mixing electronic music, and tired of the outdated, time-consuming and complex software options available, Dijkstra and his team have combined their specialist knowledge to create a unique algorithm that will ensure every mix will always be perfectly in tune. In order to do this, DJ.Studio has included a powerful and seamless integration with Mixed In Key – one of the industry's best creative tools for DJing. Using the software's pioneering Camelot wheel, as well as a number of other key features, DJ.Studio is able to offer its users the ability to master the art of harmonic mixing. Boasting the capacity to make over 250 million calculations in half a minute and a professional quality mix in less than fifteen minutes, DJ.Studio has transformed the future of mixing.

Launched in Beta during the International Music Summit in Ibiza this April, DJ.Studio – which boasts a team of 25 people – have been working around the clock, taking on board user feedback to create a radical new update, overhauling many elements of its interface to make for even more intuitive, streamlined and versatile interactions.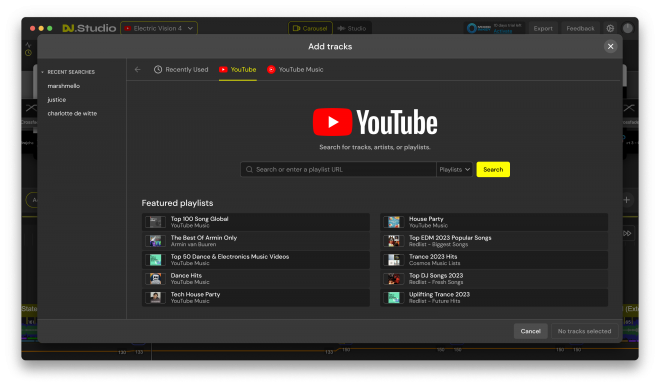 DJ.Studio allows users to import tracks straight from their music libraries, with rekordbox, Serato, Virtual DJ, Traktor Pro, Engine DJ, Mixed In Key, Engine DJ and iTunes all supported in the app. Whilst this is perfect for those who already have a huge catalogue of music, for those who don't, DJ.Studio really comes into its own with an innovative YouTube integration. Whether you are an aspiring DJ testing the waters, or someone who wants to use the app to provide mixes for their events, house or dinner parties, or maybe just to listen whilst you work, with this feature anyone can create a continuous mix using their favourite tracks online.

A cutting-edge tool aimed at everyone from bedroom DJs looking to start creating mixes, superstar DJs trialling new ideas whilst on the go, or radio hosts looking to record their shows, DJ.Studio gives everyone the chance to create seamless mixes in a matter of minutes.

DJ.Studio is available as a one-off licence or a monthly subscription starting from $/€/9 per month. For more information, tips and tricks head to dj.studio
Load the next article