NEWS
UNUM Festival
Reveals day-by-day stage breakdown for 2023 feat. Slapfunk, Animal Crossing, Club der Visionaere, After Caposile and more
UNUM Festival reveals day-by-day stage breakdown for 2023 feat. Slapfunk, Animal Crossing, Club der Visionaere, After Caposile and more
UNUM Festival
June 1-6th, 2023
Shëngjin, Albania
FB / IG / TW: @unumfestival
UNUM Festival is one of Europe's most cultured and secluded underground gatherings and it is just around the corner on June 1st - 6th. It takes place in the beautiful coastal town of Shëngjin, Albania across famously boutique stages on the beach and in the pine trees and now the day by day breakdowns can be revealed.
UNUM Festival boasts almost non-stop music, no sound or time restrictions, famously friendly and in the know crowds that come from diverse corners of Europe and beach parties, organic production and plenty more that all make it so unique.
Thursdays kicks off on the Pine Stage with the likes of Pol, All Shadows, Gemza, Sasho Uzun and Rinaldo Makaj then Friday on the same stage is hosted by Animal Crossing and welcomes the likes of Magda, Automatic Writing, Dyed Soundorom b2b The Ghost, Dyed solo, The Ghost, D'Julz, Reiss and more. The Main Stage welcomes Hot Since 82, DJ Reas, Michel Cleis and Manu Gonzalez and Beach Stage plays hosts to Arodes, Sammi Ferrer, Vithz, Cristina Lazic and M.I.M..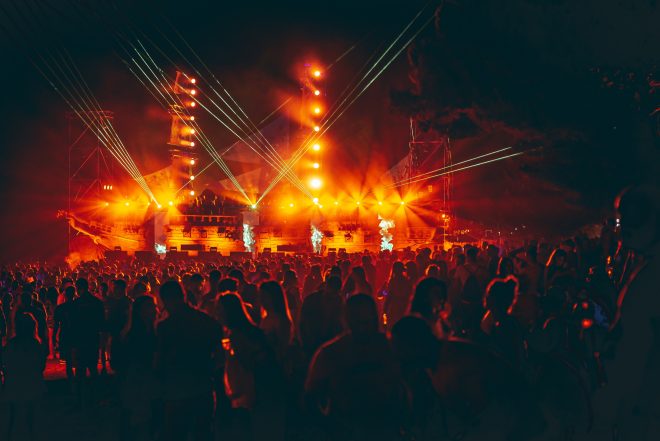 Pine Stage highlights on Saturday include Priku, Rhadoo, Raresh, Praslea b2b Cezar and Vitess Live, Bedouin, Jay Fase and Laolu on The Main Stage and Shimza, Djeff, David Mayer and more on the Beach. On Sunday, Pine — headed up by Club der Visionaere and After Caposilie — welcomes Boris Werner, Janeret, Cesar Merveille, Sonja Moonear, Ricardo Villalobos and John Dimas, Nick Curly, Dubfire and Marco Carola are on the Main Stage and Gina Jeanz, Black Space and more play the beach. Monday on the Pine Stage is hosted by SlapFunk with Margaret Dygas, Youandewan, Anthea, tINI, Liburn b2b Jonny N Travis, Liburn b2b a guest, and Leke b2b a guest. Tuesday closes down on the Pine stage with a secret b2b2b2b, Dungeon Meat, Ingi Vision and Doudou MD b2b tINI.
Aside from the world class music there is plenty to do at UNUM. Rana e Hedhun is a cultured town on the picture-perfect Albanian coastline with a sweeping beach and uninterrupted sun and sea. There's a stunning mountain range in the distance and magical pine forests plus a mix of water sports, mouthwatering local food and drink offerings and plenty of isolated bays and secluded woodland areas to explore.
Tickets will sell out so grab the last remaining few at https://www.unumfestival.com/.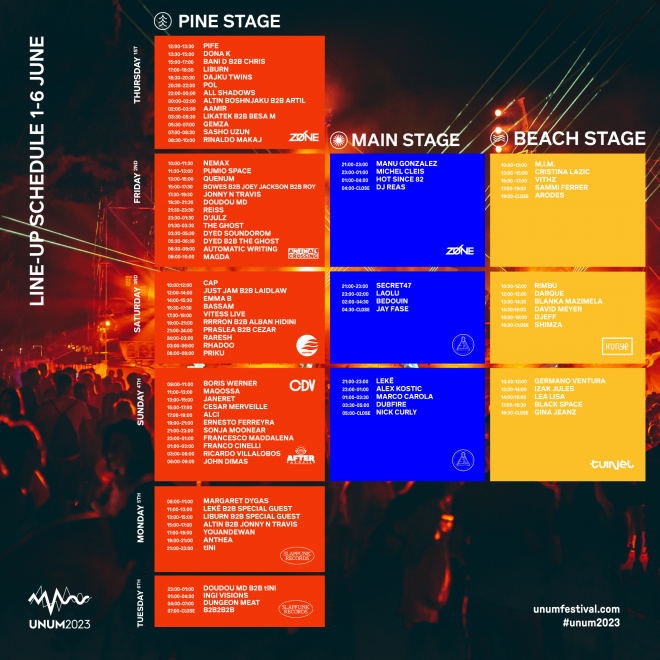 PHASE 1
Aamir
Altin Boshnjaku
ALL SHADOWS
Anthea
Bassam
Bedouin
CEZAR
DJEFF
D'Julz
DJ Reas
Dyed Soundorom
Franco Cinelli
Ingi Visions
Jay Fase
John Dimas
Julian Alexander
Laolu
Lekë
LIBURN
LIKATEK
Manu Gonzalez
Margaret Dygas
PIFE
Praslea
Priku
Quenum
Raresh
Rhadoo
Ricardo Villalobos
RIMBU
Rrrron
Samuel Deep
SAMMI FERRER
Secret 47
Shimza
Sonja Moonear
tINI
Vitess
PHASE 2
Alban Hidini
Alci
Alex Kostic
Arodes
Artil
Automatic Writing
Besa M
Black Space
Blanka Mazimela
Boris Werner
Bowes
Cap
Cesar Merveille
Chris
Cristina Lazic
Dajku Twins
Darque
David Meyer
Dona K
Doudou MD
Dungeon Meat
Emma B
Ernesto Ferreyra
Francesco Maddalena
Gemza
Germano Ventura
Gina Jeanz
Hot Since 82
Hajdar Berisha
Janeret
Joey Jackson
Jonny N Travis
Just Jam
Laidlaw
Lea Lisa
M.I.M.
Magda
Maqoosa
Marco Carola
Michel Cleis
Nemax
Nick Curly
Pol
Pumio Space
R.O.Y.
Rama
Reiss
Sasho Uzon
The Ghost
Vithz
Youandewan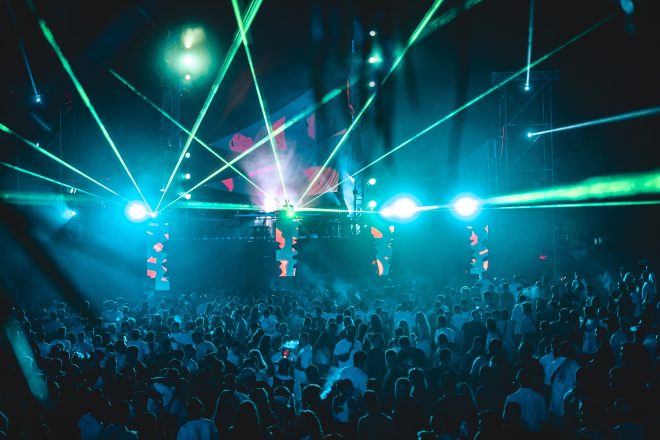 Load the next article